Unleash Your Passion For Fine Cigars
Welcome to Cigar Boutique of Little Havana, nestled in the renowned historic district of Little Havana on Calle Ocho in South Florida. Our distinguished shop occupies the cherished site of the El Credito Cigar Factory, a bastion of cigar-making tradition in the United States. We take pride in offering a collection of premium cigars and providing a distinctive, serene lounge where you can unwind and savor our exceptional products.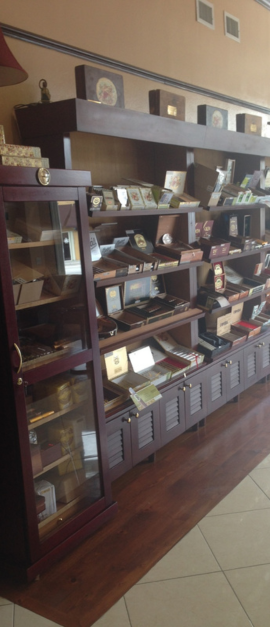 At Cigar Boutique of Little Havana, we take immense pride in offering our customers only the finest and most authentic cigars. Our commitment to quality sets us apart from the rest. We meticulously source tobacco leaves from the world's most fertile regions and collaborate closely with master cigar-makers, renowned for their expertise and craftsmanship.
Step into our shop and indulge in an exceptional selection of premium cigars sourced from various regions worldwide. For a truly personalized experience, our custom cigar service allows you to choose the tobacco, wrapper, and size preferences, resulting in a one-of-a-kind masterpiece handcrafted just for you.
With our knowledgeable and passionate staff, we offer guidance to both novices and experienced smokers, along with exciting cigar-tasting events where you can explore different blends and delve deeper into the art of cigar-making.
Visit Cigar Boutique of Little Havana today, and unleash your passion for the finest cigars available. Immerse yourself in the essence of luxury, where every puff embodies the artistry, taste, and distinction that make cigars an unparalleled indulgence.
My favorite cigar shop in Miami, a hidden gem in Little Havana with a great cigar selection, were you can relax and let yourself enjoy the finest cigars, be sure to ask help from Cesar who will always recommended a cigar of your preference. Thank you I look forward drinking more coladas and enjoying more cigars.
Outstanding! Exceptional! I felt like A family member as soon I entered the Boutique!!! I lift my glass to Cesar papa & friends God bless this place! From Montreal to little Havana Miami
Best regards! Freddy .
Sed ut perspiciatibeatae vitae dicta sunt, explicabo. nemo enim velit, sed quia non numquam eius modi tempora incidunt, ut labore et dolore magnam aliquam quaerat voluptatem. ut enim ad minima veniam quis.